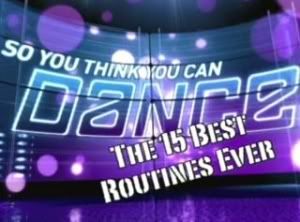 Rhetorical question. Duh.
Every
one is excited about Season 6 of
So You Think You Can Dance
. Fox made sure of that, by airing the super-special special "The 15 Best Routines Ever" last week, as a warm-up to this Wednesday's season premier.
And unless you are in league with He-Who-Shall-Not-Be-Named and therefore hate all good things (and me)--dude,
the rhythm is gonna get you
. I dare you to resist. Actually, I dare you
not
to resist.
If you don't think you could ever get into "dance" or "reality TV" or--God forbid--"a reality dance competition," then you are wrong. Do not confuse
So You Think You Can Dance
with all that other
schlock
out there;
SYTYCD
has spent five years elevating itself above all other "related" programming by repeatedly offering beautiful and genuine artistry during it's killer dance routines. Do not let the live studio audience/screaming automatons deter you.
Watch, oh God yes, please watch. Give it a chance.
Click play below
. Find one of
SYTYCD
's most famous routines--"The Hummingbird and The Flower"--at the 1:25 mark. Watch it. Then, click around the timeline and find another totally different but still totally ah-may-za-zing routine (this bit is from Season 3), including a boardroom-inspired jazz, a sexxxy samba, and a transformative hip hop. Or, better yet, click
here
to watch the whole Top 15 special. Yes, do that. If you are not inspired to
feel
, or simply to
get up and move
,
in mock, amateurish imitation, then you cannot be helped.
Oh my goodneeeess.
It's so good
. C'est si bon, indeed.
(Bonus
Mark
!)